The inventory management system seems pretty dull right? You stack boxes of products on each other and when needed a fork lift is used to load them into designated trucks for delivery. You may encounter errors if you have too many products in the inventory. You might not be able to reach the boxes on the top and hence would not know what is inside them, which might be sent to the wrong trucks. Now let us introduce a drone in the picture, well it already sounds interesting doesn't it?
"Drone Scan" is a South African inventory management startup, which use a barcode scanner, instead of the conventional camera in drones, to scan barcodes of individual boxes and identify them. The founder of the startup, Jasper Pons, gave his views saying that it would be wiser and energy efficient to use an 800g drone to scan barcodes at the top of the inventory, than to put an 80kg person in a heavy man cage and use a lift truck to get him to the designated height. Additionally, it would speed up the process too. He believes that his drone can scan as many items in 2 days as a team of 80 people and lift trucks do in three.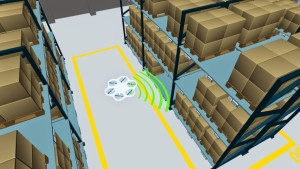 We might be used to GPS operated drones for most commercial and personal needs, but Drone Scan uses camera based navigation system, which makes the work of the user more precise. Additionally, Jasper Pons believes that his innovative indoor navigation system is a system of the future and would open doors to more drone applications than ever before. Currently the system requires an operator to function, but the company plans to make the system completely autonomous. DHL has shown a lot of interest in Drone Scan and could well be the first buyer.